Handloom Saree Retailers in Kolkata
If you are looking for a leading Handloom Saree Retailer in Kolkata, approach Mrignayani today and be spoilt for choice.
Does the visual appeal of Dhakai Jamdani Saree, Kantha Silk Saree, Tangail Saree or Muslin Saree attract you? Mrignayani is your one-stop-shop. Mrignayani M.P.Govt. Emporium Kolkata is operated by M.P.Laghu Udyog Nigam Ltd. and we try our level best to preserve the traditional textile art of India and Bangladesh through our handloom sarees. The best hand weavers are employed from all over India in our saree store so that we can offer you some exceptional sarees which are a true reflection of regional tradition.
Through the years, we have projected ourselves as one of the leading handloom saree showroom engaged in crafting sarees having unique designs and styles. Whether you have a liking for traditional or contemporary apparel, the handloom sarees offered by us will serve it all. Not only do we offer a wide variety of sarees in our shop, but each of them has been exclusively crafted to reflect the glorious cultural heritage of Madhya Pradesh. The latest Handloom Sarees crafted by us are treated to be the most recent innovation in the fashion domain.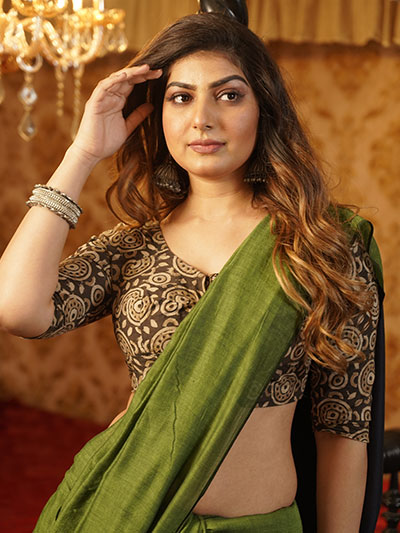 Few Varieties Of Handloom Sarees Offered By Us
Benarasi Handloom Silk Saree
Since Banaras is well-known for producing the most extravagant sarees in India, this part of the country is the first name that comes to our mind when we talk about handloom sarees. The intricate work of resham and zari in our Benarasi Silk Sarees is supposed to be one of the main reasons behind its popularity.
Chanderi Silk Sarees
Every variety of Chanderi Silk Sarees offered by us has elegant designs and unique shades that set them a class apart. The soft texture and airy nature of the drape help you to wear it with ease. Whether it's about the butis in the saree or the pallus, its lustrous appeal is indeed noteworthy.
Bandhani Sarees
If you have a love for sarees crafted in the western part of India, Bandhani Sarees offered by us is exactly what you need. Whether you are willing to flaunt the Lehariya, Panetar or Garchola variety, look no further than Mrignayani. We try to depict the delicate Gujarati design in the most colourful manner.
Baluchari Handloom Sarees
This variety of handloom saree is favourite among Bengali women. Not only is the weaving technique unique but the excellent work of resham and zari renders it a mesmerizing look. Baluchari Sarees having intricate work in golden zari is known by the term Swarnachari.
Why Are We The Ideal Handloom Saree Showroom in Kolkata?
Inaugurated in the year 1986, we boast of supplying high-quality handloom sarees for more than 3 decades.
Have experience in supplying beautiful sarees in bulk quantity to customers all over India.
Source raw material from reliable suppliers and adopt the most advanced techniques during the production process.
"Interested In Our Handloom Sarees? Visit our Dakshinapan store or Contact Us"